General Info
We encourage all passengers traveling with special needs to call ahead to our Valet and/or Concierge to arrange for assistance upon arrival. We will make every effort to meet you with support. We'll arrange for wheelchairs, assist with baggage, check-in, and more.
Valet: Temporarily unavailable
Concierge: (425) 622-9054
ADA Parking
ADA accessible parking is available in each of the terminal parking lots. Posted rates for Premium and Economy parking apply. Please see the parking page for a map of the lots and rate structures for each. In addition to these self-park options, guests with disabilities may also use the Valet Service at the Economy lot rate. Simply follow the posted signage to the Valet Kiosk located directly in front of the main terminal entrance; our Valet staff will meet you curbside, assist you with your baggage and park your vehicle. All vehicles utilizing ADA services must properly display valid disability parking permits.
Curbside Drop-Off & Pick-Up
Vehicles may park briefly at the curb for pick-ups and drop-offs, but please do not leave your vehicle unattended as curbside parking is not allowed and citations may be issued. For assistance dropping off or picking up a guest with accessibility needs, we ask that you contact our Valet or Concierge prior to your arrival so a member of our team can assist you.
To Our Transportation Partners
In the case of passengers with special needs, those with mobility challenges or anyone that requires additional assistance: Please drop those passengers off at the curb. Our concierge staff will be on hand to assist.
ADA Concerns
To report ADA related concerns or complaints, please contact the Propeller Airports Paine Field ADA coordinator at adaconcerns@propellerairports.com.
Accessibility FAQs
How do I get wheelchair assistance?
Please contact your airline to request wheelchair assistance. The airline will make arrangements to have a wheelchair waiting for you upon arrival at the terminal and they will assist you through security and to your departure aircraft.
Can I assist someone else through security if I am not flying myself?
Only ticketed passengers are allowed past security checkpoints. However, many airlines can issue special "companion passes" to non-travelers that allow them to accompany passengers requiring assistance to the gates, such as travelers with disabilities or children traveling alone. Travelers should check directly with their airlines to see what options are available.
I have a special medical circumstance and/or medical device. How do I prepare?
If you have medical devices such as syringes or special apparatuses that might be questioned at the security checkpoint, please check with your airline in advance of your flight to confirm requirements. Under FAA regulations, diabetics who need to fly with syringes or insulin delivery systems should carry a vial of insulin with a professional, pharmaceutical preprinted label which clearly identifies the medication. Because of the possibility of forgery, prescriptions and letters of medical necessity will not be accepted.
Where can I find a restroom?
Family Restrooms are located throughout the terminal and are ADA compliant. Please see the map below for locations of Family Restrooms.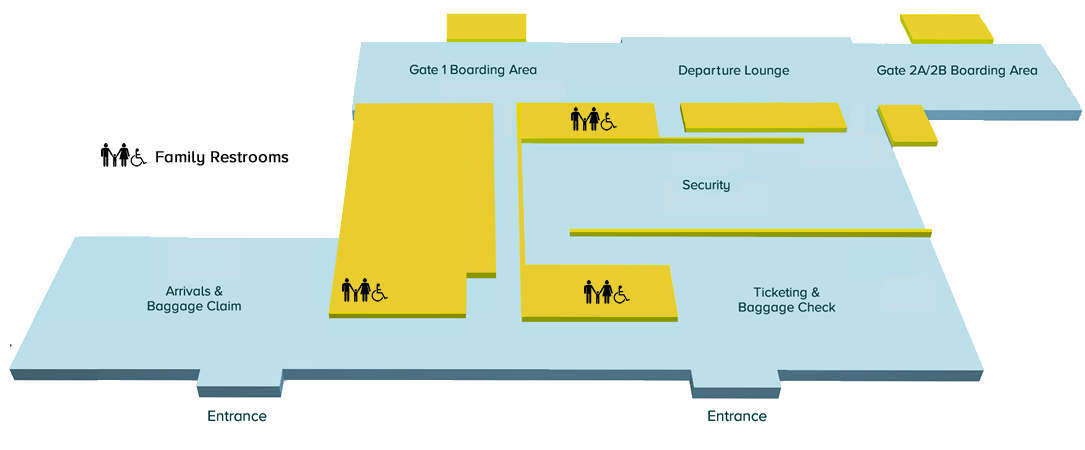 Who can I ask for help at the airport?
Look for uniformed employees or speak with our concierge in the ticketing hall for assistance.
Is ADA parking available?
Yes, ADA parking is available in our premium and economy lots. Valet parking services are temporarily unavailable. Please see the parking page for details.